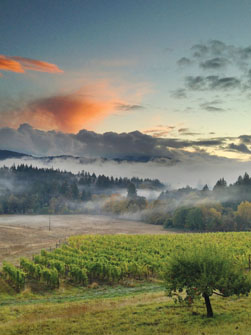 Step into the Heart of the scenic Willamette Valley and experience Oregon Wine Country the way it was meant to be.
The small, artisan wineries of the region are friendly, family-owned destinations that reflect the natural beauty and diversity of the Willamette Valley. Nestled in the foothills of the Coast Range and Mary's Peak, our sustainable vineyards enjoy the most favorable grape growing conditions in the valley.
Visit us, meet our farmers, winemakers and their families. Learn the unique stories of our wineries and see the vineyards where our grapes are grown. We are dedicated to producing high quality wines at affordable prices. Our many varietals earn plentiful awards annually. From Salem to Junction City, experience the Heart of Willamette Wineries, a prime destination for wine lovers. Relax at our venues, taste our wines, we know you'll come back!
View our digital brochure and map here.
Contact us at:
Heart of Willamette Wineries
PO Box 1565 Philomath, OR 97370
---
Three Crows Media: American Wine Story
This feature documentary is about about the transformative power of a humble beverage to fuel passion and reshape lives. Following dozens of winemakers and aficionados from all across the country to learn what drives them, and also trace some American wine history in the process, this is a film that aims to leave all audiences with a dash of inspiration to follow their own American Dreams, or at least pause and consider the story behind the bottle the next time they pull a cork.
American Wine Story from Three Crows Media on Vimeo.